Professional GPS Spy for Sony Ericcson Xperia Arc device
Pro Spy GPS Tracker is dedicated software for Sony Ericcson Xperia Arc device that allows to to track position of the phone in real time.
This software can protect your car or your phone against theft. It is absolutely free solution and all you need is a phone with GPS and Internet connection.
Hardware
The Sony Ericsson Xperia arc (Xperia X12) is an Android smartphone from Sony Ericsson. It was launched on April 1st, 2011 in Europe. The Xperia arc has a 4.2-inch (110 mm) touch-screen, the mobile BRAVIA engine which optimises the picture and runs at a resolution of 854×480 pixels, a 1 GHz Qualcomm Snapdragon processor, an 8.1 mega-pixel camera, HDMI-out, 512 MB of RAM, and a 8 GB microSD card (expandable up to 32 GiB). Phone have a year. Very nice suggestion for a reasonable price. Fast, smooth, no phone jamming. Plus a huge display, camera and design. The downside is that the body heats up during longer and more intensive use and the fact that the housing is made of plastic. General, however, appreciate the phone 7.5 / 10
Software
All you need to start tracking is to :

1. Download Pro Spy GPS Tracker from here
2. Run it and create free account on http://spysat.eu site
3. Define at least one device PIN and type it into Setup section
4. Press Home on your Sony Ericcson Xperia Arc device button to go background mode.
5. Watch your position on http://spysat.eu site.
If you need detailed instruction - please click here: How to start GPS Tracking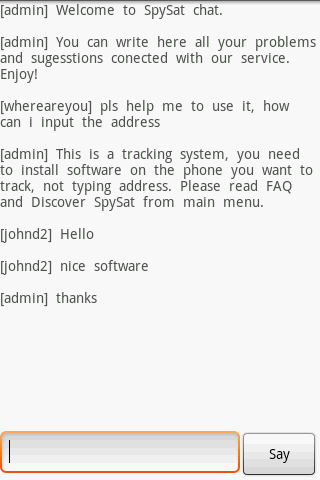 If you have any problem with Pro Spy GPS Tracker on your Sony Ericcson Xperia Arc device you can use our on-line chat support for free !
Remember that all thing you need to do is to create free account on spysat.eu site and you can get free gps tracking solution with 24/7 support .
Setup screen is listed below: