Samsung Gear 3 Frontier Tracking
Smart Watch (eSIM + LTE)
Technical specification of Gear 3 Frontier
At first glance, the watch looks almost identical to the 2016 Gear S3 Frontier. Most of the envelope is made of brushed stainless steel, the bottom is stiff plastic and the top is scratch-resistant glass and a characteristic serrated ring for navigation. The screen is a panel known from its predecessor, Super AMOLED with a resolution of 360 x 360 pixels.

Samsung Gear S3 is equipped with a pulse meter, accelerometer, gyroscope, barometer and lighting sensor. In addition, a GPS receiver has also been integrated into this small smartwatch. This combination will be especially appreciated by people practicing sports. Gear S3 can measure your heart rate, count steps, determine the number of calories you have burned and remember the data about the route we traveled. All this allows for even more effective control over the training performed.
How to track Samsung Gear 3 Frontier smart watch in real time ?
Thanks to the efforts of our team responsible for the development of innovative products - at the end of 2019 we are able to prepare a dedicated application that implements the Spy Sat protocol for Samsung smart watches.
Our plugin application could be installed on the smart watch via Bluetooth - using paired Android phone and Samsung Health app
Installation step for Samsung Gear 3 Frontier GPS Tracking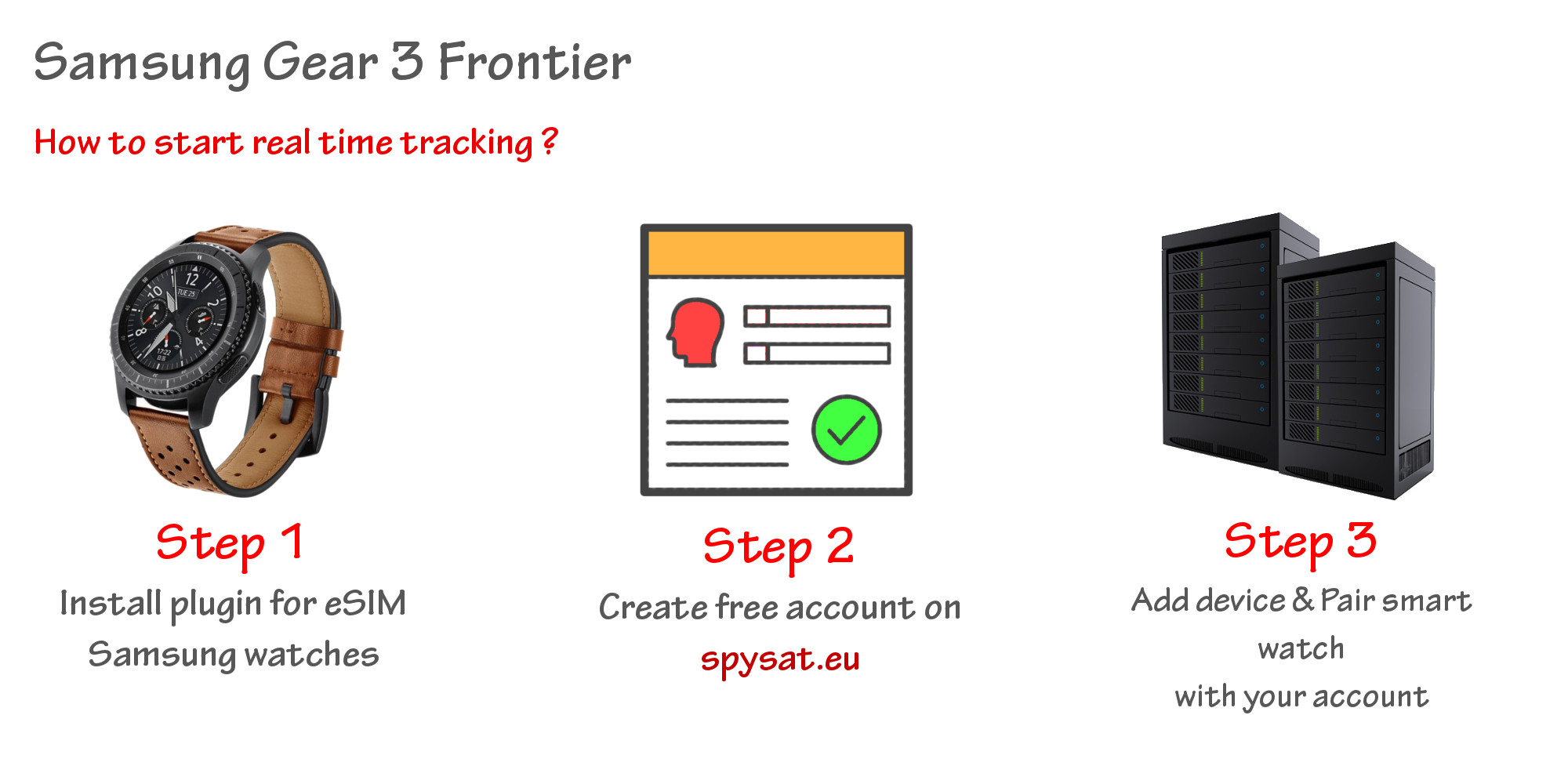 Step 1. Download plugin for eSIM Samsung Smart Watches

How to download real time tracking plugin for Samsung Smart Watch

Step 2. Create free account on spysat.eu site
Step 3. Pair your smart watch with spysat account
Other Samsung watches with eSIM that are ready to track with GPS Spysat tracking platform:
Samsung Gear S
Samsung Gear S2
If you want to buy Samsung Gear - click here