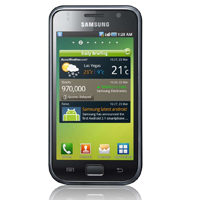 Samsung i9000 Galaxy S
Google Android
The Samsung i9000 Galaxy S includes Android version 2.1 but Android 2.2 is expected to be available, globally, at the end of September 2010. It features a 1 GHz "Hummingbird" processor along with 8-16 GB internal Flash memory, a 4 inch 480x800 pixel Super AMOLED (Pentile) widescreen, capacitive touchscreen display, a 5 megapixel camera in addition to a VGA front-facing camera, and a PowerVR graphics processor yielding 90 million triangles per second, making it the fastest graphics processing unit in any Android phone to date.
SpySat Setup for Samsung i9000 Galaxy S device
Instalation steps
1) Download "SpySat" from Google Play - all you need is to type "spysat" in search engine of Google Play Store or use this link

2) After installing the program will be available on the phone menu under the name Synteo SPYSAT.eu
3) When you first start the program it will ask you for a login and PIN devices.

In the Login field you have to enter your login used to log on to the spysat.eu
PIN could be defined on this website during defining the device (Spysat/Configure - button under the map).
Remember that entered PIN on the website must be exactly the same as PIN entered in the setup program on your Samsung i9000 Galaxy S.
If you have problems, please refer to our FAQ
Here are some answers that you could be intereseted in:


To access the device management please click here
Here is the video tutorial
Screenshots of mobile software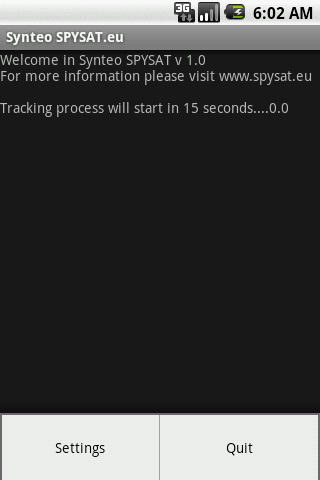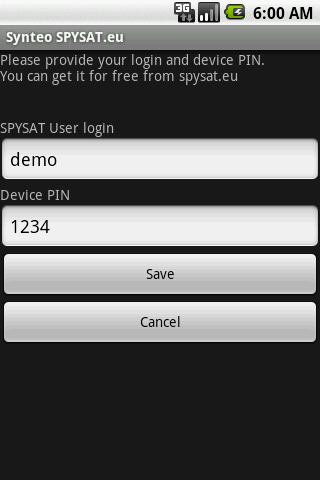 User expeirence and feedback about Samsung i9000 Galaxy S and SpySat
Check new Pro Spy Tracker for Samsung i9000 Galaxy S