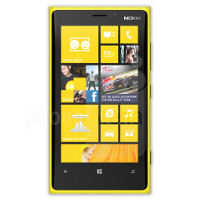 Nokia Lumia 920
Windows Mobile
Nokia Lumia 920 is a smartphone developed by Nokia that runs the Windows Phone 8 operating system. It was announced on September 5, 2012, and was first released on November 2, 2012. It has a 1.5 GHz dual-core Qualcomm Krait CPU and a 114 mm (4.5″) IPS TFT LCD display, as well as a high-sensitivity capacitive touchscreen that is covered by curved Gorilla Glass. It supports inductive charging (it can be charged by being placed directly onto a charging pad) and is compatible with Qi Inductive Charging; further, it features an 8.7-megapixel PureView camera with optical image stabilization for still images and videos. It comes with 32 GB internal storage, but has no card slot; hence it cannot be expanded with memory cards. Its touchscreen also can be used with the gloves worn by the user. As some reviewers criticized the thickness and weight of the phone, Nokia presented the Nokia Lumia 925, a lighter and thinner version of the Lumia 920 with an aluminum body and an improved camera.
Setup SpySat for Nokia Lumia 920
1) You have to download software developed by Michael Chourdakis.
You can do it directly from our site http://spysat.pl/tgps.cab
or from the Michael's site : http://www.turboirc.com/tgps/
2) After install software on Nokia Lumia 920 please select from menu:
Options / Tracking/Pursuit / Tracking options
and check Enable internet tracking
then in the field Send information each seconds type 15
and in the last field Use this URL ...
type
http://spysat.eu/dh/g.php?u=[LOGIN]&p=[PIN]&y=%1&x=%2&z=%3&s=%4
REMEMBER
Instead of [LOGIN] enter your login that you use to on spysat.eu
And instead of [PIN] enter you device PIN. You can set it or change at any time using this website in Devices Managemnt section
Remember that entered PIN on the website must be exactly the same as PIN entered in the setup program on your Nokia Lumia 920.


To access the device management please click here
User expeirence and feedback about Nokia Lumia 920 and SpySat
Check new Pro Spy Tracker for Nokia Lumia 920