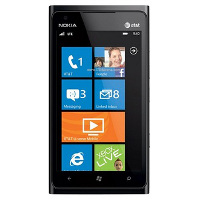 Nokia Lumia 900
Windows Mobile
Nokia Lumia 900 is a smartphone for fans of new technologies. This model gives you unlimited use of high-speed Internet. Its users will experience incredible speed thanks to a powerful Snapdragon processor with a frequency of 1.4 GHz. Moreover, the Nokia Lumia 900 is ideal for sharing your experiences on popular social networking sites such as Facebook and Twitter, and posts can instantly enrich the photos taken with the integrated camera 8Mpx with Carl Zeiss technology. Unique large ClearBlack AMOLED touchscreen with a diagonal 4.3-inch layer of protective glass works not for watching movies and photos, even in bright sunlight. The model is also equipped with two cameras, so you can conduct video calls and also to share with the caller view around us. Nokia Lumia 900 is also interesting 100 000 applications available on the Marketplace. This model is the perfect companion for every day, and on the go. Nokia Maps will we navigate to your destination even in offline mode, and the size and quality of the screen make the Nokia Lumia 900 easily replaces traditional navigation. Nokia Music with Mix Radio app - allowing free play music with finished or customized to individual preferences music channels. Nokia Music also has a built-in application Concerts, with which you can search for music events in the area.
Setup SpySat for Nokia Lumia 900
1) You have to download software developed by Michael Chourdakis.
You can do it directly from our site http://spysat.pl/tgps.cab
or from the Michael's site : http://www.turboirc.com/tgps/
2) After install software on Nokia Lumia 900 please select from menu:
Options / Tracking/Pursuit / Tracking options
and check Enable internet tracking
then in the field Send information each seconds type 15
and in the last field Use this URL ...
type
http://spysat.eu/dh/g.php?u=[LOGIN]&p=[PIN]&y=%1&x=%2&z=%3&s=%4
REMEMBER
Instead of [LOGIN] enter your login that you use to on spysat.eu
And instead of [PIN] enter you device PIN. You can set it or change at any time using this website in Devices Managemnt section
Remember that entered PIN on the website must be exactly the same as PIN entered in the setup program on your Nokia Lumia 900.


To access the device management please click here
User expeirence and feedback about Nokia Lumia 900 and SpySat
Check new Pro Spy Tracker for Nokia Lumia 900