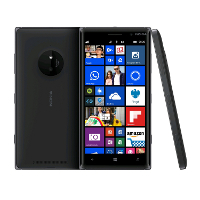 Nokia Lumia 830
Windows Mobile
Nokia Lumia 830 - Microsoft Smartphone Devices - is a high-quality photographs taken both by day and by night, a wealth of possibilities to edit or PureView technology to guarantee great quality photos. The Lumia 830 is equipped with a camera with a 10 MP sensor, ZEISS optics and Nokia Rich Recording Technology. The smartphone runs on the latest version of Windows Phone 8.1 update Lumia Denim; offers users 15GB of free storage in the cloud OneDrive and pre-installed Microsoft Office Mobile. The combination of these functions gives you the opportunity to work with any mobile device - laptop, tablet or smartphone. The Lumia 830 is equipped with interchangeable color covers made of polycarbonate with the function of wireless charging. Quality and precision aluminum frame stresses surrounding the 5-inch HD screen.
Setup SpySat for Nokia Lumia 830
1) You have to download software developed by Michael Chourdakis.
You can do it directly from our site http://spysat.pl/tgps.cab
or from the Michael's site : http://www.turboirc.com/tgps/
2) After install software on Nokia Lumia 830 please select from menu:
Options / Tracking/Pursuit / Tracking options
and check Enable internet tracking
then in the field Send information each seconds type 15
and in the last field Use this URL ...
type
http://spysat.eu/dh/g.php?u=[LOGIN]&p=[PIN]&y=%1&x=%2&z=%3&s=%4
REMEMBER
Instead of [LOGIN] enter your login that you use to on spysat.eu
And instead of [PIN] enter you device PIN. You can set it or change at any time using this website in Devices Managemnt section
Remember that entered PIN on the website must be exactly the same as PIN entered in the setup program on your Nokia Lumia 830.


To access the device management please click here
User expeirence and feedback about Nokia Lumia 830 and SpySat
Check new Pro Spy Tracker for Nokia Lumia 830