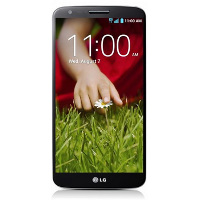 Professional GPS Spy for LG G2 device
Pro Spy GPS Tracker is dedicated software for LG G2 device that allows to to track position of the phone in real time.
This software can protect your car or your phone against theft. It is absolutely free solution and all you need is a phone with GPS and Internet connection.
Hardware
LG G2 is the first model in the new series / G / includes premium devices . Smartphone LG G2 combines comfort , functionality and stylish design . When designing your smartphone uses a completely new concept , consisting in placing all the buttons on the back. Thus, this is the first model completely devoid of buttons at the edges . The concept device with buttons on the back has been developed in response to feedback from users who have found that the increasing size of mobile access to the side buttons are becoming increasingly difficult . The buttons on the rear panel provide better control as they have been placed in a position in which rests naturally user's index finger . Developers have also noted that the lack of side buttons translates into a lower risk of dropping your phone, for example, when the user adjusts the volume during a call. Hold down on the back of the volume buttons can enable QuickMemo and camera, so you notes and exercise self-portraits easier than ever before. LG G2 can easily turn even the phone with the display facing upwards. With the KnockON , smartphone starts when you double- tap on the display. 5.2 -inch Full HD display , stand frame width of just 2.65 mm , with the technology of Dual Routing . In addition , field proven IPS matrix makes the LG G2 displays a clear picture of the highest quality and precisely rendered colors. Moreover, to reduce power consumption, the LG G2 uses GRAM memory ( RAM Graphic ) . Thanks to it , by displaying a static image matrix uses up to 26 percent less power , and battery life was prolonged by about 10 percent. The shape of the battery with a capacity of 3000 mAh is designed to maximize the space inside the housing , so that the LG G2 smartphone can work all day without extra charge . Smartphone LG G2 is equipped with optical image stabilization , which reduces the user's hand shake , allowing you to perform a clearer and sharper pictures in harsh environments , such as in motion or in low light. Most cameras with optical stabilization , which are used in smartphones has a resolution of 4 to 8 megapixels. LG G2 smartphone has a camera with a resolution of 13 megapixels, optical stabilization in a slim body with a lens that does not protrude beyond the outline . In addition , with features such as increased resolution and multi- Super Resolution autofocus lets you capture high definition , as a compact digital camera.
Software
All you need to start tracking is to :

1. Download Pro Spy GPS Tracker from here
2. Run it and create free account on http://spysat.eu site
3. Define at least one device PIN and type it into Setup section
4. Press Home on your LG G2 device button to go background mode.
5. Watch your position on http://spysat.eu site.
If you need detailed instruction - please click here: How to start GPS Tracking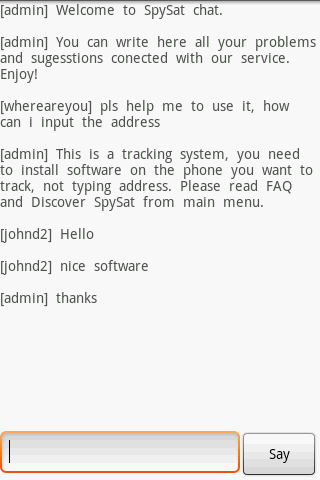 If you have any problem with Pro Spy GPS Tracker on your LG G2 device you can use our on-line chat support for free !
Remember that all thing you need to do is to create free account on spysat.eu site and you can get free gps tracking solution with 24/7 support .
Setup screen is listed below: