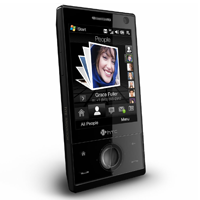 HTC Touch Diamond
Windows Mobile
Re-defining the perception of advanced mobile phones… the HTC Touch Diamond™ signals a giant leap forward in combining hi-tech prowess with intuitive usability and exhilarating design. Featuring a sharp 2.8-inch touch screen housed within a stunning formation of brushed metal and flawless faceted edges, the HTC Touch Diamond is as beautiful to behold as it is to use. The phone that the picture seems to be sizable, it really is a small and handy. Perfectly in the hand, so that it can be operated with one hand. For Diamond the first thing that strikes the eye is a unique design - a combination of the previous black design with a series of touch and surface diamond-like enclosure. Mobile makes a great first impression - first, because after a few minutes of use, we find that the model used for the construction materials, but high quality, meet only an aesthetic role. Fingerprints and smudges are a real plague, which it does not pay to attack the cloth after a minute he comes back again.
Setup SpySat for HTC Touch Diamond
1) You have to download software developed by Michael Chourdakis.
You can do it directly from our site http://spysat.pl/tgps.cab
or from the Michael's site : http://www.turboirc.com/tgps/
2) After install software on HTC Touch Diamond please select from menu:
Options / Tracking/Pursuit / Tracking options
and check Enable internet tracking
then in the field Send information each seconds type 15
and in the last field Use this URL ...
type
http://spysat.eu/dh/g.php?u=[LOGIN]&p=[PIN]&y=%1&x=%2&z=%3&s=%4
REMEMBER
Instead of [LOGIN] enter your login that you use to on spysat.eu
And instead of [PIN] enter you device PIN. You can set it or change at any time using this website in Devices Managemnt section
Remember that entered PIN on the website must be exactly the same as PIN entered in the setup program on your HTC Touch Diamond.


To access the device management please click here
User expeirence and feedback about HTC Touch Diamond and SpySat
Check new Pro Spy Tracker for HTC Touch Diamond