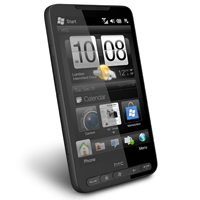 HTC HD2
Windows Mobile
The HTC HD2 is so fast—and its screen is so big—that you might not even notice it's a phone. When you're watching a video, you'll think it's a TV. When you're working, you'll think it's a computer. When you're surfing the Web, you'll miss your bus. HTC HD2 before the launch of the phone has become a cult, especially for fans of Windows Mobile. Most telling was the hot specification of this device, mainly the size of the screen and the processor. In the stable Windows Mobile HD2 racing only with the Omnia 2, so if you want to buy a chart-topping mobile phone with a choice of windows is not so complicated. Worse if you just want to buy a phone with a touch screen - then on the horizon there are other major competitors: G1, Hero, iPhone and N900. It's a great device, just like our test HD2.
Setup SpySat for HTC HD2
1) You have to download software developed by Michael Chourdakis.
You can do it directly from our site http://spysat.pl/tgps.cab
or from the Michael's site : http://www.turboirc.com/tgps/
2) After install software on HTC HD2 please select from menu:
Options / Tracking/Pursuit / Tracking options
and check Enable internet tracking
then in the field Send information each seconds type 15
and in the last field Use this URL ...
type
http://spysat.eu/dh/g.php?u=[LOGIN]&p=[PIN]&y=%1&x=%2&z=%3&s=%4
REMEMBER
Instead of [LOGIN] enter your login that you use to on spysat.eu
And instead of [PIN] enter you device PIN. You can set it or change at any time using this website in Devices Managemnt section
Remember that entered PIN on the website must be exactly the same as PIN entered in the setup program on your HTC HD2.


To access the device management please click here
User expeirence and feedback about HTC HD2 and SpySat
Check new Pro Spy Tracker for HTC HD2