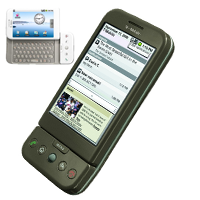 HTC Dream
Google Android
The HTC Dream (also marketed as T-Mobile G1 in the US and parts of Europe and Era G1 in Poland) is an Internet-enabled 3G smartphone with an operating system designed by Google and hardware designed by HTC. It was the first phone to the market that uses the Android mobile device platform. The phone is part of an open standards effort of the Open Handset Alliance. Please feel free to contact us if you have any problems with SpySat on this phone Pros: Wifi, QWERTY, GPS, Android, Lots of function keys Cons: Never go game, Android 1.6, characteristically distorted, one input for charging and headphones. Generally Sign in icon writing SMS is cool, but when it comes to this game is not at all comparable to the Orange San Francisco, or SE Xperia Neo V. Strange sliding QWERTY keyboard, but it can be.
SpySat Setup for HTC Dream device
Instalation steps
1) Download "SpySat" from Google Play - all you need is to type "spysat" in search engine of Google Play Store or use this link

2) After installing the program will be available on the phone menu under the name Synteo SPYSAT.eu
3) When you first start the program it will ask you for a login and PIN devices.

In the Login field you have to enter your login used to log on to the spysat.eu
PIN could be defined on this website during defining the device (Spysat/Configure - button under the map).
Remember that entered PIN on the website must be exactly the same as PIN entered in the setup program on your HTC Dream.
If you have problems, please refer to our FAQ
Here are some answers that you could be intereseted in:


To access the device management please click here
Here is the video tutorial
Screenshots of mobile software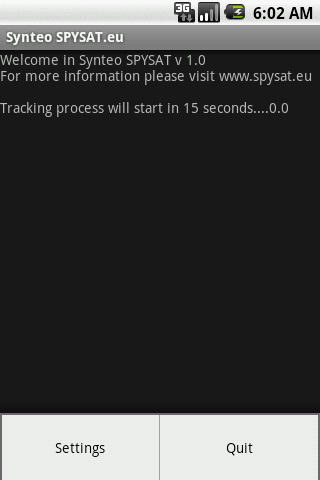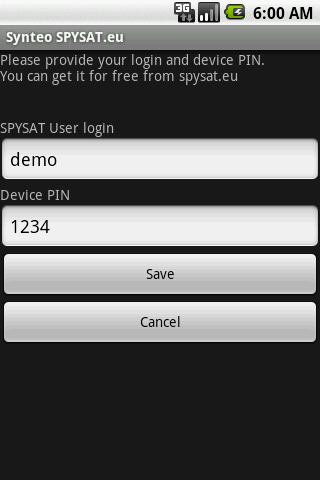 User expeirence and feedback about HTC Dream and SpySat
Check new Pro Spy Tracker for HTC Dream