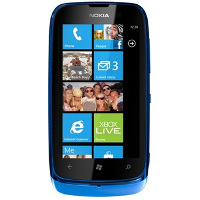 Nokia Lumia 610
Windows Mobile
Nokia Lumia 610 NFC technology is affordable Lumia family of smartphones ahead of the Windows Phone platform for younger users. Smartphone, thanks to NFC technology allows you to instantly and wirelessly connect to other devices and NFC tag reading is equipped with hardware and software to make use of this technology to make payments. Nokia Lumia 610 NFC is certified by MasterCard PayPass contactless payments.
Setup SpySat for Nokia Lumia 610
1) You have to download software developed by Michael Chourdakis.
You can do it directly from our site http://spysat.pl/tgps.cab
or from the Michael's site : http://www.turboirc.com/tgps/
2) After install software on Nokia Lumia 610 please select from menu:
Options / Tracking/Pursuit / Tracking options
and check Enable internet tracking
then in the field Send information each seconds type 15
and in the last field Use this URL ...
type
http://spysat.eu/dh/g.php?u=[LOGIN]&p=[PIN]&y=%1&x=%2&z=%3&s=%4
REMEMBER
Instead of [LOGIN] enter your login that you use to on spysat.eu
And instead of [PIN] enter you device PIN. You can set it or change at any time using this website in Devices Managemnt section
Remember that entered PIN on the website must be exactly the same as PIN entered in the setup program on your Nokia Lumia 610.


To access the device management please click here
User expeirence and feedback about Nokia Lumia 610 and SpySat
Check new Pro Spy Tracker for Nokia Lumia 610